Bridging the Gender Gap in Agriculture
8 Mar 2023
How Electronic Phytosanitary is Empowering Women in the Pacific
The electronic phytosanitary certification system, also known as ePhyto, is a technological innovation that is making a significant contribution to gender equality in trade. This digital platform facilitates the certification of plant and food products by eliminating physical paperwork, reducing processing time, and enabling real-time tracking of certification status.
One of the critical ways in which ePhyto supports gender equality is by enabling women to participate more fully in international trade. In many countries, women are traditionally excluded from trade-related activities due to cultural and social barriers. However, ePhyto has made it easier for Pacific women to access and participate in the export market by simplifying the certification process and making it more accessible.
ePhyto removes the need for Pacific women to travel to and attend to government offices to complete phytosanitary paperwork each time they export/import. This system reduces time burdens, eliminates need to travel, and allows for online activities to be done at a time convenient to women. This system substantially supports Pacific women in engaging fully in trade.
The Pacific Agreement on Closer Economic Relations Plus (PACER Plus) has been a crucial driver of ePhyto's implementation in the Pacific region. PACER Plus is a unique trade agreement that aims to promote sustainable economic development in the Pacific by improving access to international markets. By supporting the adoption of ePhyto, PACER Plus is assisting member parties to increase their competitiveness in international trade while also promoting gender equality.
Since September 2022, PACER Plus Implementation Unit provided training to a total of 123 biosecurity officials and exporters from seven member parties: Cook Islands, Kiribati, Niue, Samoa, Solomon Islands, Tonga, and Tuvalu. However, plans to involve stakeholders in Vanuatu, the latest Pacific country to ratify the agreement, have been delayed due to Cyclone Judy and Cyclone Kevin that hit the country this month. Out of all the participants who received training, 42 per cent are women.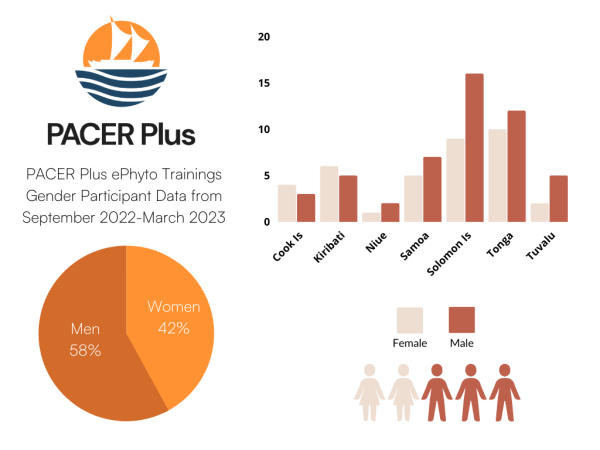 May Schaaf Vi, Manager Operations for Hihifo Foods, attended the PACER Plus ePhyto Training in Nuku'alofa, Tonga.
"In my past experiences, the manual phyto certification generally takes a day or two to process. With ePhyto, processing the certificates will almost be instant which would assist us greatly in exporting and importing goods," said Ms. Vi.
ePhyto is a technological innovation that is having a significant impact on promoting gender equality in the Pacific. By simplifying the certification process and eliminating gender-based barriers to trade, ePhyto is enabling more Pacific women to participate in international trade and access new economic opportunities.
Subscribe today
Don't miss our latest updates and news about PACER Plus